Mac Mind Mapping
Mac mind mapping helps users create, organize and present information. Based on the proven Mind Mapping® theory, it enhance creativity, while clarifying thinking and improving the retention of information. Software like MindView Mac comes with the new Mac Lion OS interface and a variety of ready-to-use templates. Easy-to-use wizards and professional clipart help to improve your layout, while powerful exports to Microsoft® Word, Microsoft® PowerPoint, PDF & HTML make it simple to convert your mind map into a professional presentation in seconds!
Benefits of Mac Mind Mapping
Mac Mind Mapping Is Perfect For

5 interchangeable views
Mac Lion OS Interface
Ready-made professional templates
MS Office Integration

Outlining written documents
Meetings and Agendas
Storyboarding presentation
Creating Timelines
Mac Mind Mapping Re-Invents the Brainstorming process
1. Create your Mac Mind Map in 5 interchangeable views
2. Kick-start your Mac Mind Mapping session with easy-to-use Templates
3. Export your mind map to Microsoft® Word or Microsoft® PowerPoint
4. Keep your audience engaged with focus mode and presentation mode
5. Attach files or record sound notes to include in mind map branches
6. Review project plans as a timeline

Mac Mind Mapping Software with 5 Interchangeable views
Developing your Mind Map in 5 different views allows you to alter your process depending on the nature of your data or the audience you are presenting for. The ability to switch back and forth easily between views helps reinforce topics and relationships.

Mac Mind Mapping Templates
The variety of professionally formatted templates in mac mind mapping programs like MindView make mind mapping easier than ever! Choose among an assortment of mind mapping templates or customize them to meet your needs.

Mac Mind Mapping with Powerful MS Office Integration
MindView Mac empowers users to transform their mind map into a polished Word® document or PowerPoint® presentation with its powerful Microsoft Office integration. When exporting to MS Word or MS PowerPoint, the branches of your mind map will become the sections of your Word document, or the slides of your PowerPoint presentation. Whatever is attached to the branch in the mind map, will be included in the respective section of the word document.
Easily make changes to your export, or turn a native Word document or PowerPoint presentation into a structured mind map by importing the file back into MindView.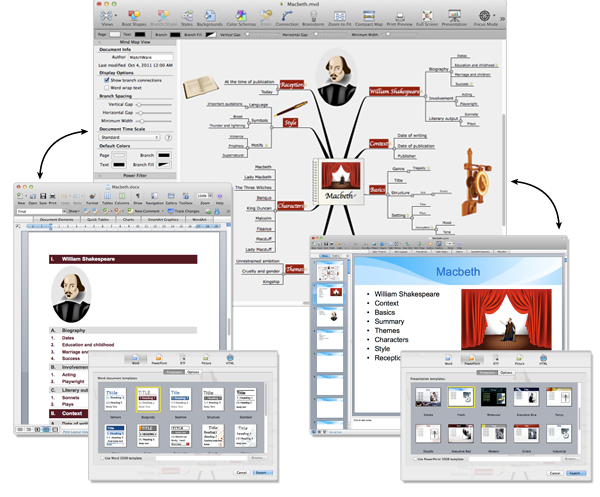 Mac Mind Mapping with Focus Mode & Presentation Mode
Focus Mode is perfect for concentrating attention on a particular branch or group of branches in your mind map. Presentation Mode lets you navigate your mac mind map one branch at a time, allowing your audience to easily follow you presentation.
Add Files and Sound Notes to Your Mac Mind Map
MindView Mac allows you to include all of the files you need in your mind map. With the ability to attach notes, documents, images, links, or recordings to your mind map, MindView Mac brings unlimited potential to Mac mind mapping.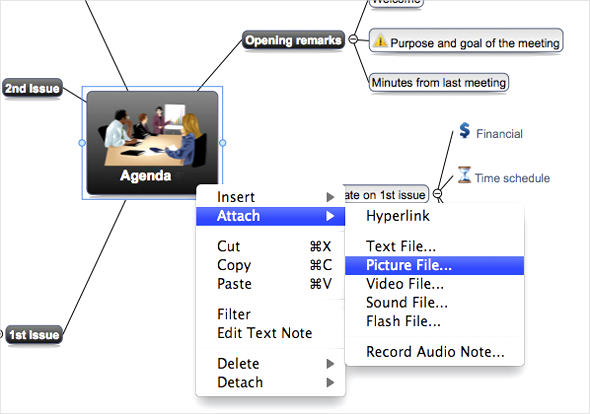 Turn Mac Mind Mapping into a Timeline
Timeline's are another way that mac mind mapping has been re-invented. Adding dates to branches allows you to view your mind map as a timeline, where the branches are displayed in a horizontal time axis.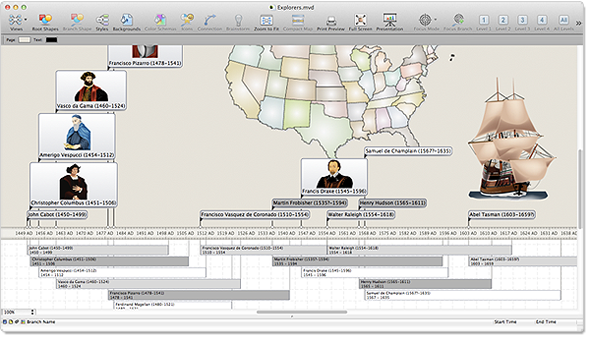 Related Links: • Mind Mapping Software • Mind Map Software • Mind Mapping • Mind Mapping Software Mac • Mind Mapping Software Online • Mind Mapping • Mind Mapping Free • Mind Mapping Program • Mind Mapping Examples • Shared Workspace • Mind Mapping Software Review
back to top